OHAUS Moisture Analyzer Range for all budgets.
The MB120 is the high specification model in the OHAUS range.
The MB120 delivers functionality and precision that you can rely on, and is easy to operate and clean – you can test more samples in less time! Advanced features such as a temperature guide help to analyze optimum drying temperature, and methods and results storage allows statistical analysis of measurements. Three levels of user management ensure data safety – set up and lock temperature settings and method parameters with administrator access.
Moisture Analysis Made Simple and Powerful
MB120's Temperature Guide analyzes a sample and determines the optimal drying temperature. Store up to 100 drying methods for easy recall and up to 1000 total results for statistical analysis.
Precisely controlled halogen heating dries samples uniformly, producing repeatable results of 0.01% readability. Four drying profiles & seven shut-off criteria help to perform customized sample tests.
The MB120 features a removable pan handler and sample chamber for easy cleaning. Operating the MB120 is intuitive – simply follow the guided instructions on the touchscreen display.
Who Measures Moisture and Why?
Understanding the water content of material is a common interest and concern to many diverse industries. Moisture content is important for processing and handling cosmetics, pharmaceuticals, food, personal care products, pulp and paper products and specialty products to name a few. The amount of available water will also dictate the shelf-life and stability of many systems e.g the presence of water in food greatly impacts its susceptibility to chemical, enzymatic and microbial activity.
Example Industries Measuring Moisture Content:-
Microbial Stability
Shelf-life stability to enzymatic reaction
Functionality of ingredients and final products
Processing Functionality
Packaging Requirements
Textural Properties
Moisture Balance Consumables & Accessories
LABTEK Services can supply a range of consumables and accessories for a wide range of Moisture Analysers from Ohaus, Mettler Toledo, Sartorius, Denver etc please call us for a quotation:
Glass Fibre Discs -Aluminum Sample Pans-Temperature Calibration Kit – Pan Handler – Re-useable Pans (set of 3)
Combining Speed and Precision in One Moisture Analyzer –Test More Samples in Less Time
The MB90's precisely controlled halogen heating dries samples quickly, and ensures uniform heating to yield fast, precise and repeatable results of 0.01% readability.
Designed with effortless maintenance in mind, the MB90 features a removable pan handler and heating chamber components that make cleaning quick and easy – no tools needed.
Icon-based menu navigation on the easy-to-read touchscreen display makes operating the MB90 intuitive. Perform routine sample testing in three easy steps – no training required.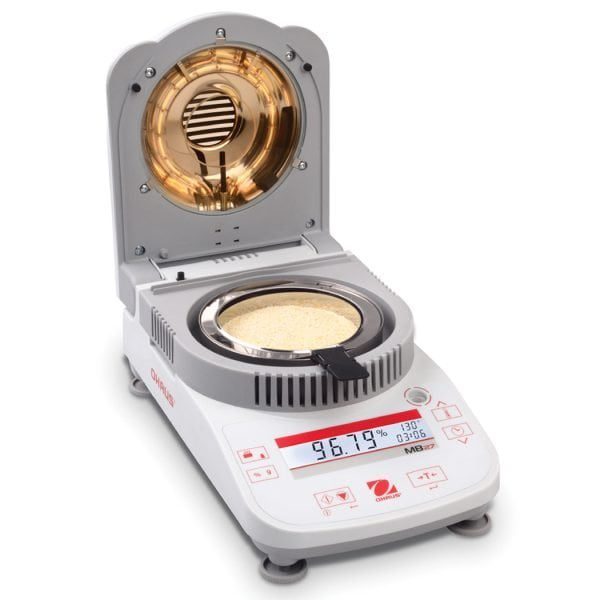 The Affordable High Capacity Moisture Analyzer
The MB27 provides accurate results at 0.01% 0.001g. With a large capacity of 90g, it is ideal for food, agriculture, chemical, pharmaceutical and other applications that require measurements up to 0.01% 0.001g.
Set up and operation is extremely easy. Just press and hold the temperature or time buttons to set drying parameters. The MB27 is ideal for routine tasks performed by operators of all skill levels.
The compact footprint (17x14x28cm) of the OHAUS MB27 is designed to take up less space. The easy-to-clean heating chamber is ideal for frequent use and inexpensive maintenance.